Rize Adjustable Bases
Special Discount Pricing.
In-Stock and Ready To Ship!
Contemporary III Adjustable Bed
Modular design and edge-to-edge lumbar support with therapeutic massage. All the best adjustable bed features are available with the Contemporary III. Including heavy-duty lift motors, under-bed lights, five preset positions, and a programmable remote and voice-powered app. Try the exclusive lounge position to ease lower back pain.
Contemporary III Adjustable Bed
Full Feature Set
Edge-To-Edge Adjustable Lumbar Support
A separated section gives support to your lower back just where you need it to relieve pain
Under-Bed Light
Don't worry about stumbling around in the dark when you use the gentle illumination of our LED light in a choice of colors
Dual USB Outlets
A built-in outlet on each side of the base keeps your devices charged and ready to use for work or play
Lounge Position
Lower the legs and take pressure off the lower back with our exclusive lounge position
Modular Design
Contour to your body's preferred position with five moving sections
Anti-Snore Position
Sleep better by using the anti-snore position to raise the head and open airways to reduce snoring
Zero Gravity Position
Improve blood flow, reduce back pain, and feel almost weightless in zero gravity
Incline Position
Get neck support and lift your feet up for better support and relaxation while you read, work, watch, or browse
Voice-Powered Mobile App
Customize your relaxation without putting down your mobile device, and use voice controls for easy adjustment
Therapeutic Massage
Choose the location and intensity of your massage for enhanced R&R
Improved Lift Capacity
Heavy-duty motors lift up to 850 lb. per base so you can pile on the thick mattress and extra pillows
Flat Position
Press one button to return to a flat, neutral position
Fit
Rize adjustable beds are designed to fit inside most existing headboard/footboard/rail systems
Continuous Motion Mode
Set the bed to go through a series of positions automatically
Steel Post Legs
For extra durability, we use steel post legs that can support even the thickest mattress
Gravity Release
A built-in safety feature to reduces stress on objects caught under the bed, so there's no worry about pinching or pressing
Sync Up Two Bases
Twin XL and split sizes offer an easy-to-use sync cable so you can operate both sides of the bed together
King And California King
Large sizes available as a single piece for simplicity and value
Adjustable Headboard Brackets
Available for additional purchase, these headboard brackets make it easy to attach your favorite headboard to your adjustable bed
Programmable Positions
Once you find a favorite position, you'll never want to go back, so save your custom settings to use any time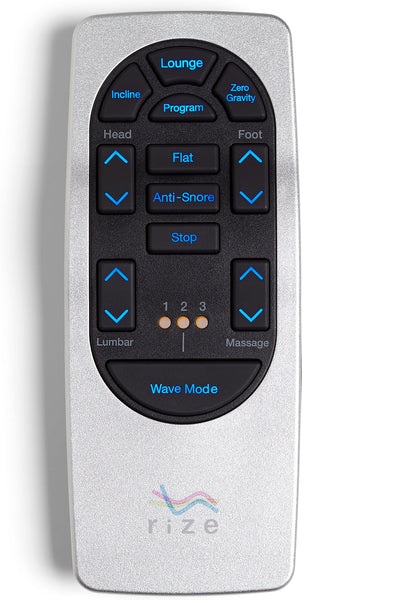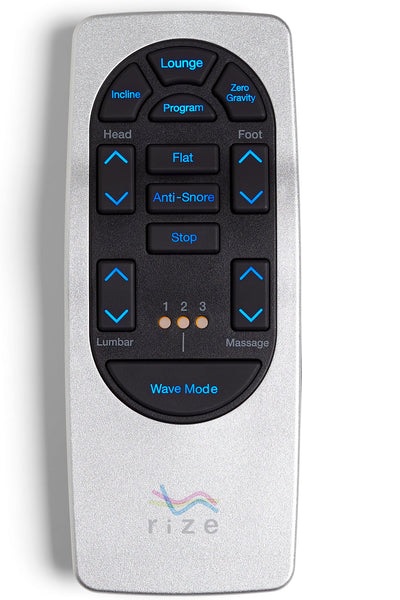 | Size | Dimensions (H x W x D in Inches) | Weight (LBs) | Price | Sale Price! |
| --- | --- | --- | --- | --- |
| Twin (one base) | 15 x 38 x 75 | 157 | $2,197.00 | $1,758.00 |
| Twin XL (one base) | 15 x 38 x 80 | 161 | $2,197.00 | $1,758.00 |
| Full (one base) | 15 x 54 x 75 | 205 | $2,397.00 | $1,918.00 |
| Queen (one base) | 15 x 60 x 80 | 219 | $2,397.00 | $1,918.00 |
| King (one base) | 15 x 76 x 80 | 264 | $2,897.00 | $2,318.00 |
| Split King (2 pc set) | 15 x 76 x 80 | 314 | $4,394.00 | $3,515.00 |
| California King (one base) | 15 x 72 x 84 | 244 | $2,897.00 | $2,318.00 |
| Split California King (2 pc set) | 15 x 72 x 84 | 322 | $4,394.00 | $3,515.00 |
Edge-to-edge lumbar support and optimal options for comfort, all at a low cost. The Remedy II includes five preset positions, a programmable remote, two heavy-duty lift motors, and USB outlets. A voice-powered app is also available to control the bed and save your favorite positions. Added massage enhances your rest & relaxation. King and California King sizes are available as one piece.
Remedy II
Adjustable Bed
Full Feature Set
Edge-To-Edge Adjustable Lumbar Support
A separated section gives support to your lower back just where you need it to relieve pain
Programmable Positions
Once you find a favorite position, you'll never want to go back, so save your custom settings to use any time
Dual USB Outlets
A built-in outlet on each side of the base keeps your devices charged and ready to use for work or play
Voice-Powered Mobile App
Customize your relaxation without putting down your mobile device, and use voice controls for easy adjustment
Anti-Snore Position
Sleep better by using the anti-snore position to raise the head and open airways to reduce snoring
Zero Gravity Position
Improve blood flow, reduce back pain, and feel almost weightless in zero gravity
Incline Position
Get neck support and lift your feet up for better support and relaxation while you read, work, watch, or browse
Leisure Lounge Position
Raise just the head, for an easy way to get into position for reading, watching TV, or scrolling
King And California King Sizes
Large sizes available as a single piece for simplicity and value, in one box that's easy to fit through the door
Improved Lift Capacity
Heavy-duty motors lift up to 850 lb. per base so you can pile on the thick mattress and extra pillows
Under-Bed Light
Don't worry about stumbling around in the dark when you use the gentle illumination of our under-bed LED light
Flat Position
Press one button to return to a flat, neutral position
Continuous Motion Mode
Set the bed to go through a series of positions automatically
Fit
Rize adjustable beds are designed to fit inside most existing headboard/footboard/rail systems
Height-Adjustable Legs
Sturdy steel post legs can be raised or lowered to change the height of the base from 12.25 to 18.25 inches
Sync Up Two Bases
Twin XL and split sizes offer an easy-to-use sync cable so you can operate both sides of the bed together
Gravity Release
Our adjustable bed motors have a built in safety feature to reduce stress on objects caught under the bed, so there's no worry about pinching or pressing
Battery Backup
Even during a complete power outage, the battery backup system allows you to return your bed to a flat, neutral position
Adjustable Headboard Brackets
Available for additional purchase, these headboard brackets make it easy to attach your favorite headboard to your adjustable bed
Therapeutic Massage
Choose intensity of your massage for enhanced R&R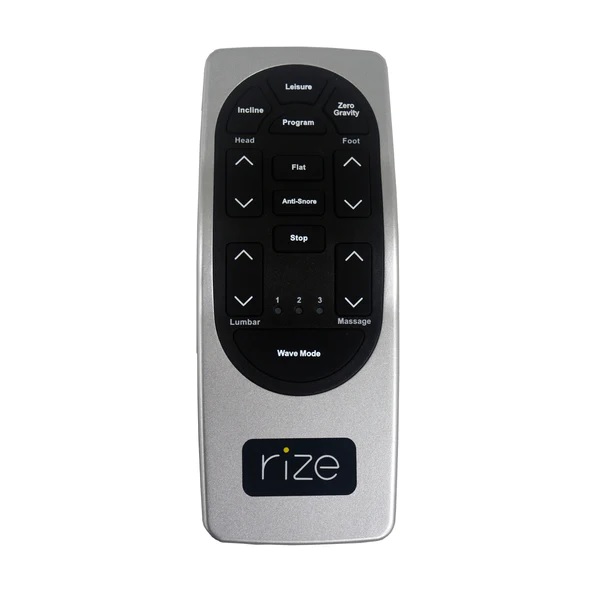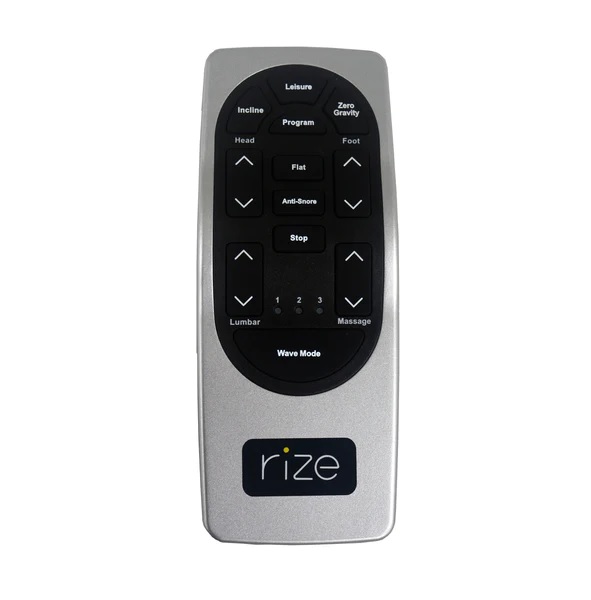 | Size | Dimensions (H x W x D in Inches) | Weight (LBs) | Price | Sale Price! |
| --- | --- | --- | --- | --- |
| Twin (one base) | 12.25 to 18.25 x 38 x 75 | 118 | $1,897.00 | $1,518.00 |
| Twin XL (one base) | 12.25 to 18.25 x 38 x 80 | 120 | $1,897.00 | $1,518.00 |
| Full (one base) | 12.25 to 18.25 x 54 x 75 | 155 | $1,997.00 | $1,598.00 |
| Queen (one base) | 12.25 to 18.25 x 60 x 80 | 182 | $1,997.00 | $1,598.00 |
| King (one base) | 12.25 to 18.25 x 76 x 80 | 214 | $2,597.00 | $2,078.00 |
| Split King (2 pc set) | 12.25 to 18.25 x 76 x 80 | 240 | $3,794.00 | $3,035.00 |
| California King (one base) | 12.25 to 18.25 x 72 x 84 | 218 | $2,597.00 | $2,078.00 |
| Split California King (2 pc set) | 12.25 to 18.25 x 72 x 84 | 244 | $3,794.00 | $3,035.00 |