Try Before You Buy!
Shop top luxury brands in store at Ultrabed located in Agoura Hills, CA.



Come visit Ultrabed in Agoura Hills, CA. We have a large selection of luxury beds available for you to try before you buy.
All at the guaranteed lowest prices.
Ultrabed is located at
28505 Canwood St Suite C Agoura Hills, CA.
Your Sleep DNA Matters
People who switch from their current mattress to a Helix report a 36% improvement in sleep quality after 100 nights. That's a whole lot of hours.
Individualized Comfort
Comfort means something different to everyone. With the Helix Color MATCH you'll discover a new type of comfort that's built just for you.
Support Made for You
Each Helix Mattress has unique support characteristics to align your spine based on your body and sleep style. That means less pain and deeper sleep.
Some people call John Merwin the "mattress whisperer."
Two brothers, John and Rob Merwin, began as liquidators but eventually, quite tenaciously and scientifically started deconstructing mattresses and visiting factories to learn how to build a better mattress themselves. The early days, 1995 to be exact, consisted of a refurbished Wonder Bread truck, a Motorola brick phone, and Rob unloading every mattress in his inventory at any house in the Phoenix, Arizona valley, day or night. John—who was about to marry, but whose path to earning a college degree to support his wife and himself in Montana was rather dismal—agreed to help.
John Merwin went all in on the idea of being one of the few mattress retailers in the country to manufactures its own beds…and built a factory.
That rarity accounts for the brand's affordability as well as its quality. Brooklyn Bedding custom crafts and then sells mattresses direct to customers for a fraction of the price of the big guys because the brand's state-of-the-art factory is closer and better than China. Brooklyn Bedding also manufactures many of the top private label mattress brands on the market, having opened its first permanent showroom at the Las Vegas Market trade show in 2018. (In this case, what happened in Vegas did not stay in Vegas.)
American dreamed and American owned Brooklyn Bedding remains American strong.
The company's celebration of its 25-year anniversary was met by a worldwide pandemic in March, 2020. But John Merwin immediately went to work to transition a portion of his factory to produce masks for essential workers—and develop a hospital bed prototype that was based on a proprietary trucking industry solution he'd invented 16 years earlier. The former was a decision that not only benefitted essential industries, it helped saved jobs during an economic downturn.
Why You Can Trust Bear
Our mission is simple: to improve the health, wellness, and overall quality of life for our customers. We are a small team of thinkers, doers, and creators. We strive to empower our customers through innovative sleep wellness products so they can thrive each day.
Family Foundation
Our family has been helping people sleep better for over 25 years. We've learned a few things in that time.We strive to make the highest quality products at a superior value.We deliver first-class customer service. Whether you call, text, chat, email, or reach out to us on social media, you'll be in touch with a real person who is happy to help.
Comfort to Soothe Those Sore Muscles
Whether you go with our high-quality memory foam or a premium coiled mattress, you're sure to get the proper support, pressure relief, and comfort just where you need it most.
What makes the Nectar mattress different?
Nectar not only offers contoured support at a fantastic price, but it also provides peace-of-mind with our industry-leading 365 night risk-free sleep trial and Forever Warranty™. Plus, every Nectar mattress is shipped fast and free to your front door. And if it's not a perfect fit, we'll refund your purchase and work with you to get the mattress donated or recycled. No hard feelings.
Where are Nectar products manufactured?
In order to provide our customer's with their best night's sleep, Nectar has evaluated and selected the best possible materials from around the world. We have a diversified supply chain, and our products are sourced and manufactured in places such as Vietnam, Malaysia, China, Mexico and the USA with the utmost safety and sanitary measures in place.
What is the Forever Warranty™?
Forever is a long, long time…and that's how long we guarantee your Nectar. If in the unlikely chance you experience defects in construction, materials, or quality, Nectar will either replace or repair your Nectar mattress. If you own and sleep on a Nectar, we believe a Nectar should be the only mattress you'll ever need.
Birch's commitment
Birch is committed to only using organic and natural materials that pass rigorous testing and achieve the highest ratings and standards. We also ensure our partners adhere to ethical practices and responsibly source all of our products' organic and natural components.
Airflow & Breathability
Don't sweat it – each organic mattress comes with an organic cotton cover as its top layer, hygroscopic organic wool, and breathable natural Talalay latex in order to increase airflow and keep you cool for a good night's sleep on your new bed.
Optimized For Pressure Relief
Each natural latex mattress uses premium hypoallergenic and organic materials from nature, like sap tapped from rubber trees, to create the right pressure relief and contour for your body. With a medium-firm feel, this is a great mattress for side sleepers, as well as back sleepers and stomach sleepers.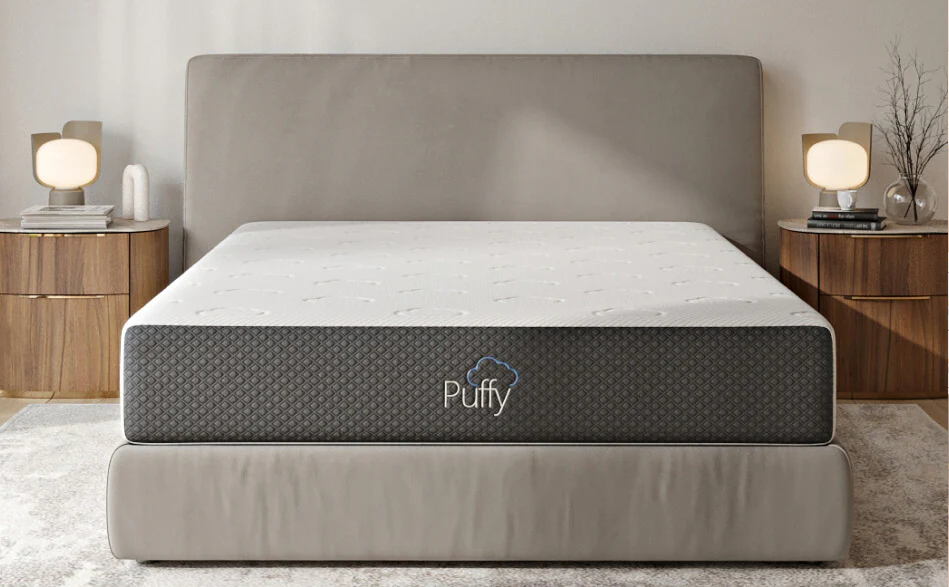 The Puffy Mattress is a medium-firm mattress endorsed by the American Chiropractic Association and made in the USA with 5 layers of CertiPUR-US® certified foams.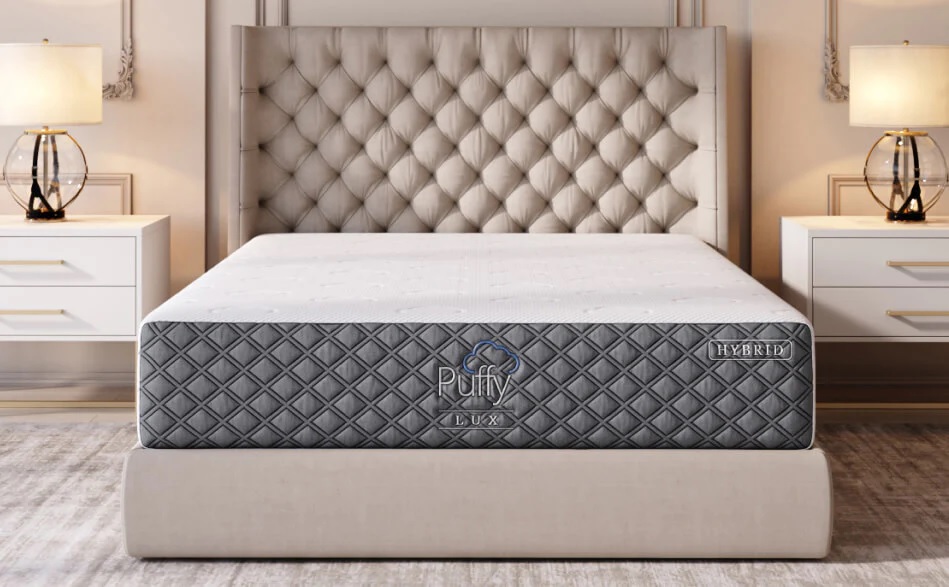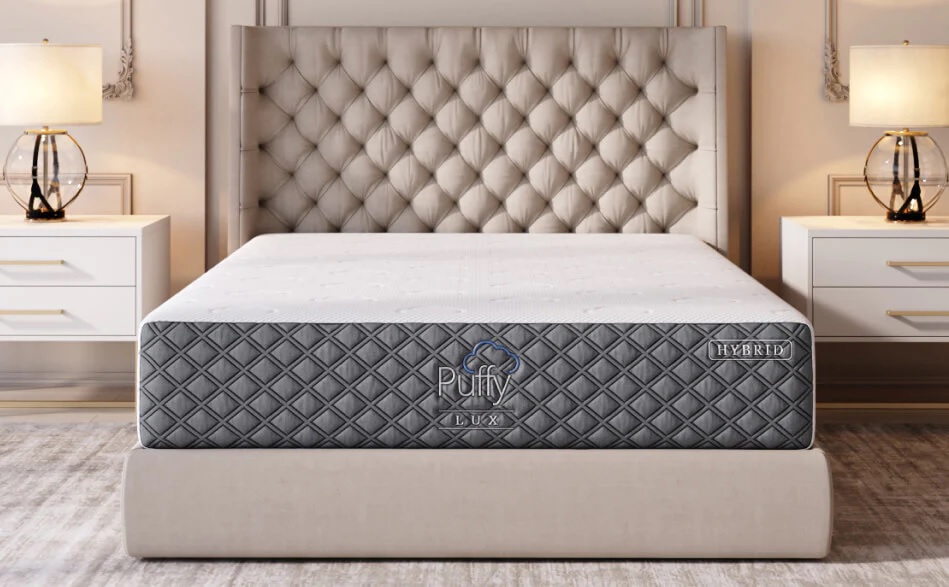 The Puffy Lux Hybrid is a medium-plush mattress endorsed by the American Chiropractic Association and made in the USA with 6 layers of CertiPUR-US® certified foams.
Delivering handcrafted comfort and unparalleled support, this collection features a rare combination of the finest natural materials and handcrafted details the world has to offer. Crafted without compromise, each time-resilient layer rests over 1000 hand assembled cotton calico wrapped steel coils, and each mattress is finished with button tufting to ensure years of consistent rest and rejuvenation that will be felt in every last luxurious detail.
Temperature regulating foams are innovated with carbon fibers and graphite latex to provide superior breathability and durability while layers of responsibly sourced horse hair, joma wool and cashmere create layers of comfort for optimal sleeping conditions.
Hand craftsmanship, tailored looks and exotic materials of the highest quality come together in this contemporary design of the Intimate collection.
Aireloom
Streamline and Luxetop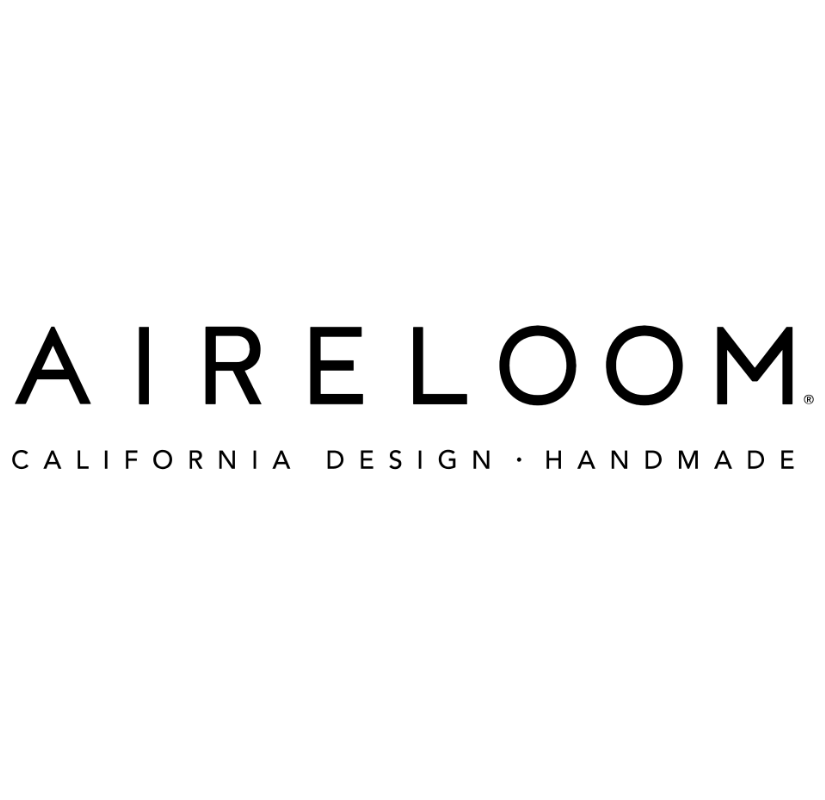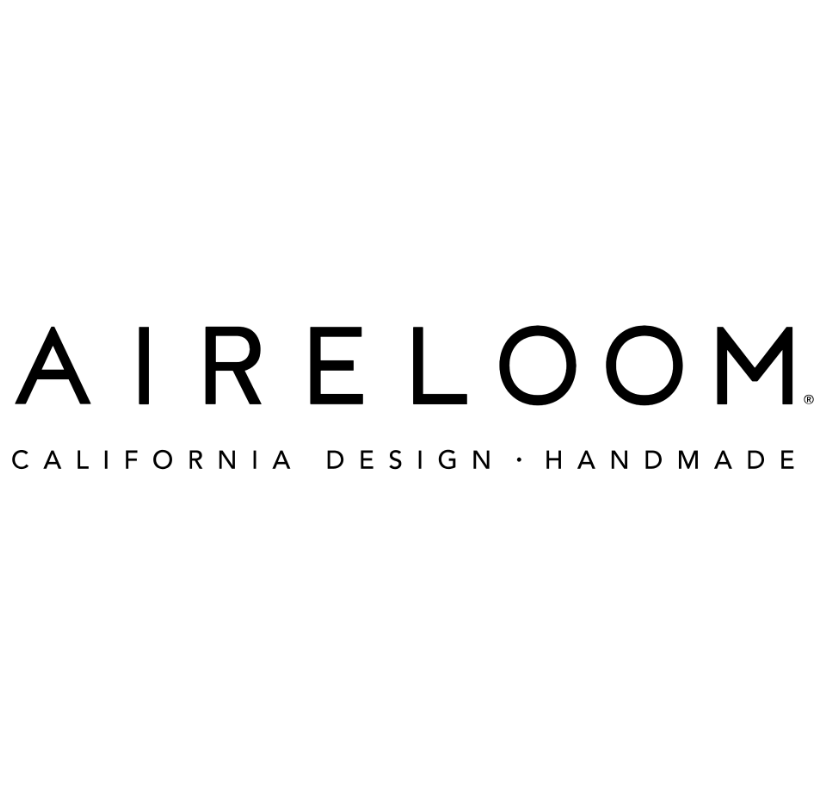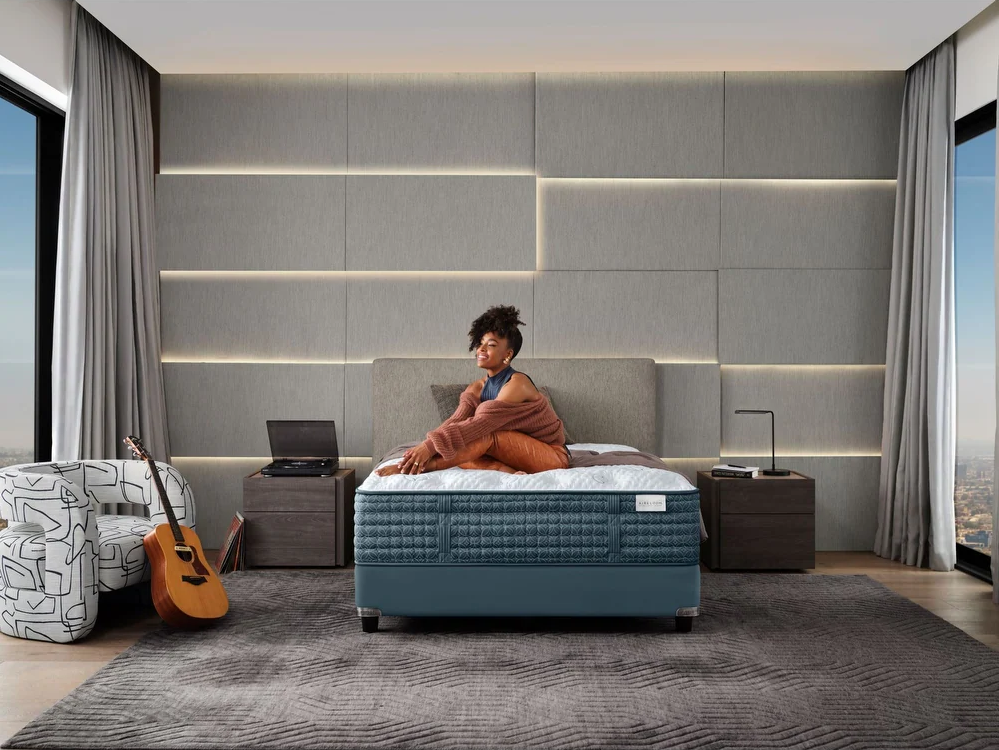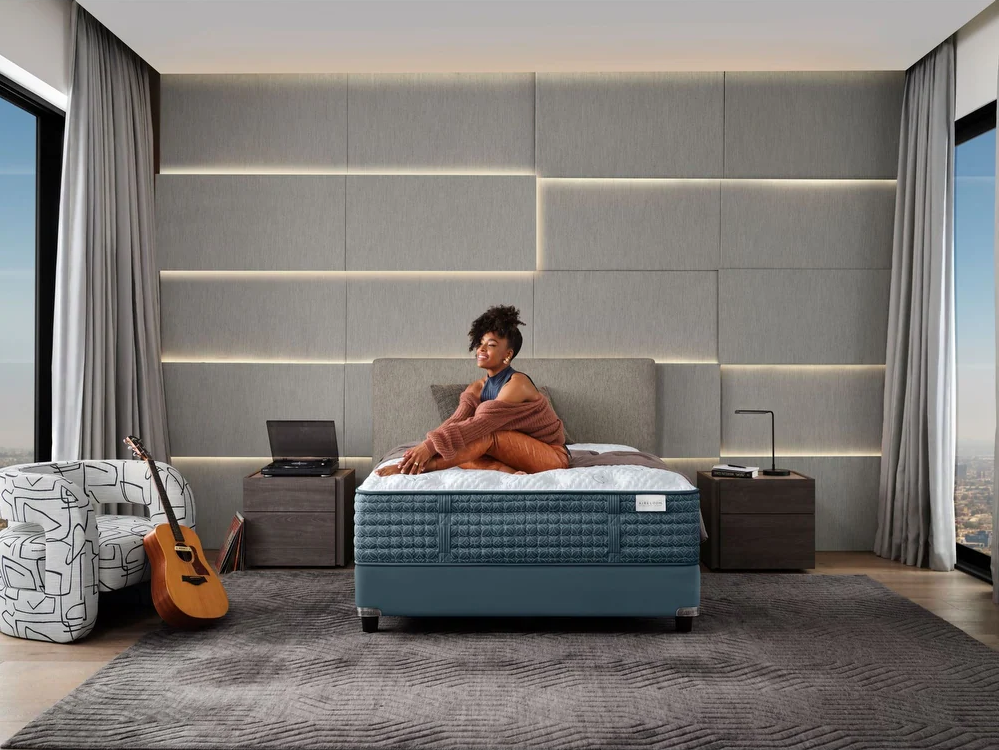 Built with Aireloom's patented Aireloom Lift™, their 2021 Preferred Collection brings together lush layers of silk and wool, cotton, Celsion™ TerraPur™ Latex and Figure-Sync™ coils that work in unison to guarantee you the best sleeping experience.
STREAMLINE™ EXTRA FIRM
The ultimate in firm comfort, this mattress combines all of the classic components of an Aireloom bed with an extra level of resilience. Handmade with the patented Aireloom Lift™ and innovative materials, it provides a firmer feel for those who crave extra support.
STREAMLINE™ LUXURY FIRM
The soft but firm mattress that combines all of the classic components of an Aireloom bed with a perfect blend of comfort and support. Handmade with the patented Aireloom Lift™ and innovative materials, the bed offers a perfect choice for those who prefer a slightly plusher feel.
LUXETOP™ M1 PLUSH
Our standard luxury mattress from the Preferred Collection. It is handmade with the patented Aireloom Lift™, Plush Celsion™ TerraPur™ Latex and Plush Aireluxe™ foam. The comfort layers hug your body while ensuring stability and support for the ultimate relaxation.
LUXETOP™ M2 PLUSH
Our unique and luxurious model from the Preferred Collection is handmade with the patented Aireloom Lift™, cotton and Graphite Visco. It promotes stability and optimal air flow that wicks away moisture, keeping you cool and fresh for a restful night's sleep.
Come by and try one today!
Ultrabed – Agoura Hills Mattress Store and Bed Factory