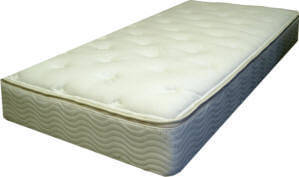 Latex Foam Mattress
Finally, a mattress for back pain sufferers that is as comfortable as it is supportive!
Many companies offer latex mattresses that are a full size core of one consistency. The problem with this is that these mattresses are either very soft and comfortable at first, but not supportive later on, or they were uncomfortable and very hard overall. The Taluxe Latex Foam Mattress avoids this problem by utilizing four layers of foam which increase in firmness. This provides for a more springy and soft initial feel, but more true support than the one- to three-layer, soft, medium, and even firm latex mattresses you will find elsewhere. This is because of several reasons.
First, we use 2 inches of very comfortable, extra-soft Talalay latex on the surface, instead of a less supportive and much less durable pillow top. We then follow this up with 2 more inches of a medium-firm Talalay latex foam to keep the comfort, but slow down the compression of the Memory Foam Supportfoam, thereby allowing more springy support. We then follow this layer with a transitional layer of a very firm Talalay Latex to prevent bottoming out onto our very firm orthopedic base. We manufacture this mattress in any size and thickness, but we keep our first three layers the same and add to the very supportive base of the mattress. Because you need a very firm and rigid base to counter the "hammock" inward folding of the body that will occur when you use a solid latex core for a foundation, we then utilize a ultra stiff and very supportive base of high resiliency polyurethane for the base that you will notice from the moment you sit on the mattress and feel the support underneath you. With other much more firm feeling latex mattresses, you won't have this firm of a base, but you may feel like the whole mattress is uncomfortable. When combined with a supportive pillow, the result is the perfect alignment of spine from the tailbone to the top of the spine. We even combine this mattress with the most breathable quilted and stretchable cover available without the unnecessary and unsupportive pillow top. For an extra measure of softness on the surface, you can choose our more plush quilt with special Fibersoft system as depicted below.
Manufactured in the United States, our latex foam uses a natural and environmentally friendly process that washes away the natural proteins in the latex that have very rarely been known to cause allergies with skin exposure. This makes this mattress completely hypo-allergenic, bacteria and dust mite resistant, and completely non-toxic. Any mattress this complex, using the highest quality latex foam would normally cost several thousands. Now you have a chance to buy direct from the manufacturer and save thousands!
Soft-Pedic
Combination Memory Foam and Latex Foam Mattress
Soft-pedic was designed especially for side and stomach sleepersWhether you are you suffering from arthritis, bursitis, tendonitis, hip pain, or shoulder pain from sleeping on your side; or you just need to get a better night's sleep, the Soft-Pedic pressure sensitive memory and latex foam mattress may be just what the doctor ordered. Created by Dr. Rick Swartzburg, D.C., to help his patients suffering from all types of pain, the Soft-Pedic is an amazing blend of four layers of latex and memory foam. The Soft-Pedic was designed especially for side sleepers who want to sink into the mattress deeper to allow even more cradling of their shoulder and hips, but do not want to lose the overall support of the mattress. We accomplished this by adding in an extra 3-inch layer of hypo-allergenic Talalay latex foam and placed it in the third layer. We zoned this layer to provide more softness for the shoulders and legs, but used a higher ILD latex foam where the hips and low back are to add a greater support for that heavier area of the body. The top layer is two inches of our extra-plush 4lb. density foam for that wonderful memory foam feel. The second layer is the highest quality 5lb. memory foam, followed by the 3 inches of zoned Talalay latex foam that has a medium firmness which adds more support, while retaining a comfortable feel and transitions into the extra-supportive fourth layer, the very firm high resiliency polyurethane base at 40 ILD. The Soft-Pedic uses our specially designed hand-stitched hypoallergenic, stretchable terry cover that is easily removable for washing. It has a special breathable design that will ventilate better than most covers to keep your body temperature constant, so you will not have to worry about this mattress getting too hot. The Soft-Pedic mattress is soft enough to contour to the bumps and curves of your body, but firm enough to provide proper support and will never bottom out. While the Soft-Memory Foam Mattress at Selectabed.comPedic was specifically designed for side sleepers, it can also work well for back sleeping. (However, we usually recommend the Tri-Pedic for a pure back or stomach sleeper.) The standard Soft-Pedic is 9 inches thick, but we can customize any level of thickness to meet your needs. We are so convinced that you will not find a more comfortable mattress that we are offering a 120-day sleep trial and will pay for shipping of another mattress if you are unsatisfied for any reason at all. As you can tell we are extremely proud of this mattress and want you to experience first-hand why the Soft-Pedic will be the best mattress you will ever own!
Mattress Foundations and Frames
We also offer mattress foundations and bed frames, but unlike some other manufacturers, we never force you to buy our foundation in order to qualify for our 40-year warranty.
Get Factory Direct Prices – Call us toll free 1-800-667-1969 or click here to fill out our online price form
A Doctor's Perspective
The best kind of mattress will have a supportive density, but also have enough "give" to conform to the bumps and curves of the body. The Tri-Pedic and Soft-Pedic memory foam mattresses will accomplish this. They provide more give, thereby comfortably supporting the muscles and joints. The patients I have recommended these mattresses to all report overwhelmingly positive feedback. In particular, my back pain patients who use these mattresses report immediate effects that range from having a better night sleep to less or no stiffness and pain when they wake up in the morning.
If you have any questions, please feel free to email me personally at DrSwartzburg@gmail.com"
#1 in customer service, low factory-direct prices!
By being the manufacturer, as well as collaborating with other specialty mattress manufacturers and the largest foam distributors, and having the extensive experience in comfort and pain relief products from our parent company Relief-Mart, we promise you the lowest prices and the highest quality mattresses available today!