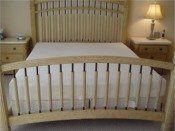 California King Mattress
Our Cal King size mattresses start as low $799. You will save hundreds!
A California King mattress, or Cal-King size for short, is similar in size but looks entirely different from a standard or Eastern King. The Cal-King mattress is 72 inches wide and 84 inches long, appearing less square and more like any other size mattress. A California King is great for very tall people or those who like a long mattress for any reason. The California King box springs or Cal-King box foundations are usually two pieces that fit under the mattress and measure 36 X 84 inches for each piece. At SelectaBed.com, we are proud to offer the highest quality memory foam, latex foam, adjustable bed, and airbeds at a manufacturer discounted price. These premium mattresses can help you are your loved ones get the proper support they need while getting a blissful sleep! We also offer custom size mattresses for antique and usual sized beds. If you need a complete California King mattress bed set, we also offer box foundations and metal frames if needed. Click on the get price link below or call us now at 800 667-1969 for more information.